Report on 2017 UMI Open House (exhibition)
Details

Created: Friday, 13 October 2017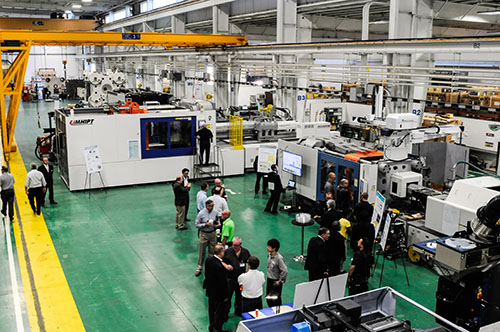 UBE Machinery Inc. held an Open House on September 21st (Thursday) and September 22nd (Friday), 2017.
During the Open House (exhibition), our all-electric injection molding machines demonstrated an injection foam molding process (Dieprest molding) and SCS (Sequential Cavity Separation) process, as well as a 2 platen hydraulic servo machine performing dry-cycle and displaying our new IoT system for the remote monitoring of multiple injection machines.
We also exhibited a variety of part samples produced by molding solution technologies such as our DLFT (reinforced fiber material direct compounding) system, direct sandwich molding, and cavity change molding.
As a result of the Open House, we received many great responses from our visitors and, based on this valuable feedback, we will continue to develop technologies and introduce processes that match the needs of the injection molding market.
We would like to take this opportunity to thank all those who attended our Open House from across the United States as well as Canada, Mexico and Japan.
For further information, please contact us at:
UBE Machinery Inc.
5700 South State Street Ann Arbor, MI 48348
734-741-7000
We Deliver World Class Performance